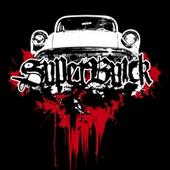 I am listening to SuperBuick's CD at 8:20 AM and never have I felt so amped, so early, without the use of narcotics. The second you hit play, you're assaulted by agressive, melodic guitars, fast drums and high voltage vocals. Lyrically it's the stuff of Motley Crue songs..Drugs, Girls and partying with some skating thrown in the mix. Except it's a little darker..as the girls are whores, the drug most referenced is speed, and the partying seems to end in a jail cell, as track 10 reminded me of an old boyfriend who'd landed himself in jail and asked me to wait for him & bail him out. No, I wasn't about to do that, but maybe if I had heard "Madre Maria" I might have. (what was he in jail for? pissing on a cop car. I kid you not. The boy had a homemade GG Allin tattoo, what did I expect?)
I wouldn't be surprized to hear the cd's final track (eleven total) "Skater to the Grave" on an upcoming skate video in the near future. Track 6 "Manor and Pearl" makes me wanna tear down the road in my piece of shit Honda like a bat outta hell. Most of the songs on this album give me that feeling. Something tells me this CD may get me a few speeding tickets. Track 8 "I Confess" is a sexy, vulgar tune that may be something fun to make out to. I'll let you know.
The songs are definitely catchy, but musically it's nothing brand new. Which isn't bad in this case. I feel like I've heard it before. But these guys found something that works and it works well. It's gritty, but easy to listen to. It's almost a bit reminiscent of the Nerve Agents at it's best moments, and lyrically, of the Murder City Devils. As I listened to the CD, it almost felt like with each song, it got better. By the time I reached Track 9 I was ready to go see these guys tear it up. If you get a chance, I'd definitely get to a show, just not if you're the faint of heart. Overall, it's a solid, wonderfully frenzied album!
Cover Art: Good color scheme (red, black, white). The car on the front (their logo) reminds me of Stephen King's "Christine". Along with dripping blood on both the front and back of the cd, it's simple, yet eye catching.