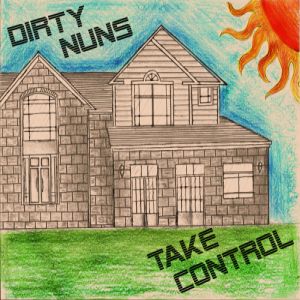 I recently had the pleasure of seeing the Dirty Nuns rock out at a basement show here in Ottawa (and actually got to see their entire set for once!), and picked up their album called Take Control.
I'll start off by saying that most punk bands of the day cite 80's hardcore outfits a la DK, Black Flag, Poison Idea etc. as their influences, but those influences are seldom heard in the music. The Dirty Nuns however took a few pages from the 80's, and actually applied them to their tunes with amazing results. Equal parts punk, hardcore and bad ass rock 'n roll, and sure to please anyone who's a fan of the old greats. The opening track "Take Control" even has some very Dead Kennedys-esque vocals backed by wailing guitars, and shows that this album won't take any prisoners, from beginning to end, force-feeding you a taste from the 80's.
My only gripe with the album is that it's almost a bit too stale in the way of not covering anything that hasn't been done before. Topics covered have been done so before, time and again, and so musically and lyrically speaking the band doesn't really break any new ground. Don't make any mistake though, while The Dirty Nuns may not be an extra original band, they're not trying to be, and what they do, they do very well.
As for the production side of the album, the band hit the nail right on the head. All of the instruments and vocals can be heard clearly enough so that the album sounds good, but without the anti-septic feel of a lot of higher budget recordings. This album has a lot of attitude, and slightly rough-edges, while still coming across as sincere. As the Nuns declare in their song "Can't Fool Us", We do what we say, we say what we mean.
For once I might actually buy that statement.
If you wanna get a hold of a copy of the album, book the band or just check them out, head to their site at www.myspace.com/dirtynunshc.