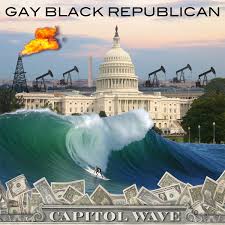 Now I have to admit, at first I didn't know what to expect, but i've done some research on these guys and there's more to Gay Black Republican than just the flashy, attractive name you'd expect to see spray painted onto the back of your local 7-11. This punk rock band with Ramones influences comes from Indianapolis and have been touring at differing venues there for over 20 years, featuring on some radio appearances around there as well. An impressive record for any band, it's clear that GBR already has a steady influence on the punk rock community in their area and has not lost its momentum, just recently putting out their new 2015 album entitled "The One Takes".
This album, entitled Capitol Wave, is the fourth album the band put out in September 2008 and has sides to it that are both political and no-fooling, loveable punk rock. Now, it's important to keep in mind that this album was released in 2008, and has some interesting qualities from this time such as the pseudo-pop punk vocals. Listening to this album, I did enjoy some songs which I thought were worth listening to, "Capitol Wave", "Punk Rock Fuel", "Ballet On Barbed Wire" (an allude to their previous identically entitled album), and "Move Your Ass" to name a few.
The first song is like the type of song you'd listen to in the back of a pickup truck with your friends. It's just a typical "F-You" feel good song. When I first listened to this band I thought it was an impressive mix of Black Flag and Teenage Bottlerocket. I was surprised, the lead vocals were melodic and lyrics were intelligently created, a hidden gem for this band. The guitar is very thrashy and when I learned this band listed "The Sex Pistols" as an influence I could see why. The guitar sounds much like the Sex Pistols with that surfing kind of feel it gives. One criticism I had of the album is that every once in awhile I felt it was a little out of the innovative juice. Although I get the huge impact Dookie had in the punk music world, sometimes I felt this band was leaning too much on the "Dookie" sound and re-creating the 90s punk rock feel, which started to give me a stale impression. Some parts in the album, like where they had one part when the toilet started whirling and you could hear it, gave me a chuckle, but lead me to think, "Woah this is so 90's punk rock!". Not a bad thing, but still, if you're looking for innovative music go listen to something else. However, it was still a very enjoyable listen with a good blend of melodic vocals and guitar thrash riffs.
In the end, this album is a great instalment for any growing punk band and I can feel that this is just the beginning for something good that will happen to the band. If you're nostalgic or have an affection for the 90s punk rock scene and you can't get enough, this album is definitely a good pick for you. Granted, they probably have already found their own defining sound and voice by now so I recommend you check these guys out regardless!